Spa clients want to walk into a sanctuary of serenity. They're looking for a haven where stress melts away and tranquility reigns. But, the name above the door is just as important as the interior design. Believe it or not, your spa name can make or break the entire experience. In the world of wellness, the name of your spa is what can make you stand above the competition. Get it right, and you're not just another spa—you're a destination. We've compiled a list of the best and most creative spa names to help spark inspiration.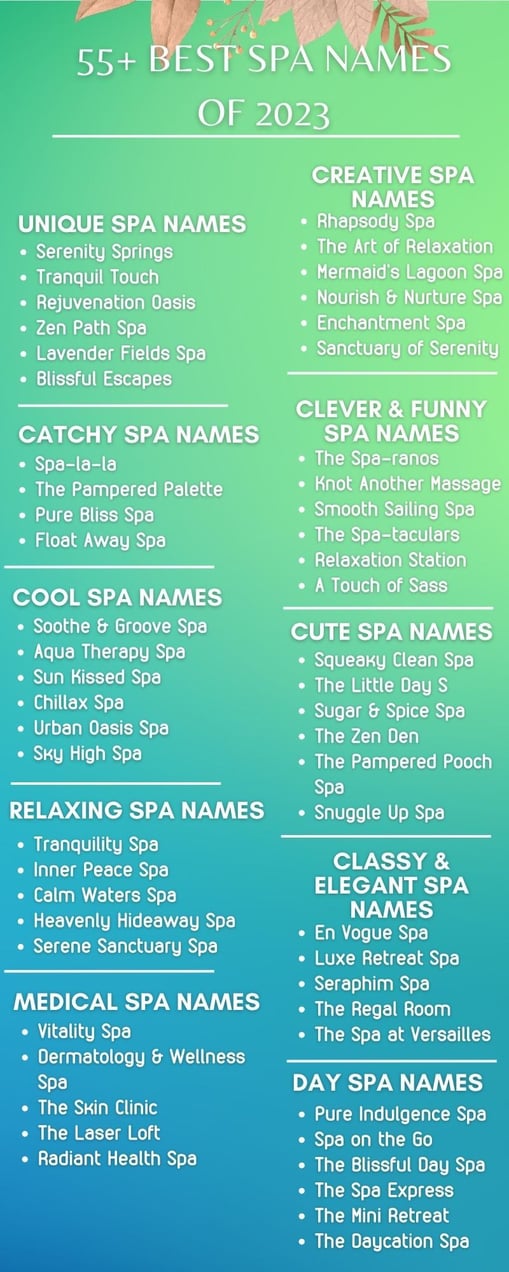 How Important Is Your Spa Name?
Your spa name sets the tone for the entire experience you provide to your guests and plays a huge role in how successful your business is. It needs to capture the essence of your services, resonate with your target audience, and distinguish you in a competitive market. Potential clients see your name first, so it shapes initial perceptions and expectations. A memorable name can help word-of-mouth advertising and improve your online visibility. But, a poorly chosen name can turn off potential clients and even have legal ramifications. Choosing a spa name must be a strategic decision because it has a lasting impact on your business.
It Establishes Your Brand
Your spa name needs to fit into the overall branding of your business. While it needs to stand out and be unique, it should complement the atmosphere of your spa. The colors, fonts, and other design elements should all be unified to create a cohesive brand that customers will remember and become loyal to.
It Makes A Good Impression
An attention-grabbing name draws people in and makes them more likely to book an appointment at your spa. For best results, make the name itself relevant to the services your spa provides. This lets customers know what to expect when they come in for a visit.
It Creates Your Clientele
What's the type of clientele you want to attract to your salon? A generic spa name won't give people a good indication of what to expect. On the other hand, a name that's too specific could end up making your spa seem too exclusive. Find the right balance between the two to reach the right audience.
What Makes A Good Spa Name
Overall, a good spa name should be memorable, evoke the right emotions, and create a positive image of your spa.
They're Visual
In addition to the words, the font and colors of your spa name have a huge impact on how customers perceive your brand. For example, a black-and-white font may convey a sense of sophistication, while a bold red font may be more eye-catching and inviting.
They're Meaningful
The name of your spa should also reflect the unique characteristics of your business, and be something customers can relate to and be inspired by.
They're Short and Sweet
A long, complicated name can be difficult for people to remember or pronounce. Keep your name concise and to the point, so customers can easily recall it and recommend your salon to others.
They're Clever (But Not Too Clever)
An overly clever name may come off as too silly, and turn customers away. Find a great name that's creative and fun without being wacky.
They Reflect Your Salon Brand
Make sure to think of a name that fits in with your existing services, and create a consistent message that customers can understand.
How To Choose A Spa Name?
Choosing the right spa name can be a difficult task. It's important to take the time to think of all the possible options and narrow down your list. Where do you start?
Explore Google
Type in some keywords related to your spa, and see what comes up. This gives you insight into which words are commonly associated with spas, and may trigger creative ideas of your own.
Get Inspired by Nature
Nature often has the power to evoke calming emotions in people. Try to think of nature-related words that create the right atmosphere for your spa.
Take a Look at Social Media
If you're feeling stuck, take a look at what other spas are doing on social media. It'll help you understand the type of content that resonates with your potential customers, as well as provide inspiration for developing your own spa name.
Ask Around for Ideas
Don't be afraid to ask around for help coming up with a spa name. Reach out to friends, family, and colleagues for ideas.
Make Sure Your Domain Name is Available
When you've come up with a handful of names you like, check and see if the corresponding domain name is available. This allows you to create a well-branded website that's easy to access.
Spa Name Ideas
Once you have an idea of what to look for in a spa name, you can begin brainstorming potential options.
Unique Spa Names
Serenity Springs

Tranquil Touch

Rejuvenation Oasis

Zen Path Spa

Lavender Fields Spa

Blissful Escapes
Creative Spa Names
Rhapsody Spa

The Art of Relaxation

Mermaid's Lagoon Spa

Nourish & Nurture Spa

Enchantment Spa

Sanctuary of Serenity
Catchy Spa Names:
Spa-la-la

The Pampered Palette

Pure Bliss Spa

Float Away Spa
Clever & Funny Spa Names:
The Spa-ranos

Knot Another Massage

Smooth Sailing Spa

The Spa-taculars

Relaxation Station

A Touch of Sass
Cool Spa Names:
Soothe & Groove Spa

Aqua Therapy Spa

Sun Kissed Spa

Chillax Spa

Urban Oasis Spa

Sky High Spa
Relaxing Spa Names
Tranquility Spa

Inner Peace Spa

Calm Waters Spa

Heavenly Hideaway Spa

Serene Sanctuary Spa
Cute Spa Names
Squeaky Clean Spa

The Little Day Spa

Sugar & Spice Spa

The Zen Den

The Pampered Pooch Spa

Snuggle Up Spa
Classy & Elegant Spa Names
En Vogue Spa

Luxe Retreat Spa

Seraphim Spa

The Regal Room

The Spa at Versailles
Medical Spa Names:
Vitality Spa

Dermatology & Wellness Spa

The Skin Clinic

The Laser Loft

Radiant Health Spa
Day Spa Names
Pure Indulgence Spa

Spa on the Go

The Blissful Day Spa

The Spa Express

The Mini Retreat

The Daycation Spa
Next Steps For Your Salon
Take the time to think of a great name that perfectly encapsulates the essence of your spa. With the perfect spa name, you're ready to start marketing to clients.
Get ready to start writing up your salon mission statement, set up a website, register your business name, and create marketing material!
At Insight, our comprehensive blog and salon management software help you set up and run a spa both you and your clients will love. With the right name, you're well on your way to a successful business venture!