Salon mission statements are the cornerstone of your business strategy, but they can also be difficult to nail down.
After all, what makes up a good salon mission statement? And how are they different from your brand voice and value proposition?
In this article, we'll go over everything you need to know about salon mission statements. We'll also give you some great examples that you can use as inspiration for writing your own.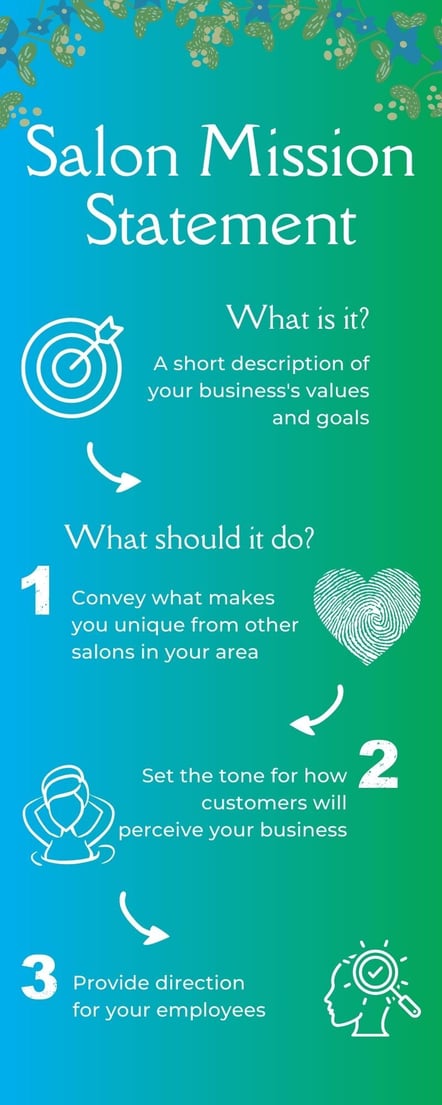 What exactly is a Salon Mission Statement?
A salon mission statement is a short description of your business's values and goals.
In a nutshell, it should:
Convey what makes you unique from other salons in your area.

Set the tone for how customers will perceive your business.

Provide direction for your employees.
Key Differences Between Salon Mission Statements and Salon Vision Statements
A salon mission statement refers to the purpose and goals of your business. It helps employees and customers understand the salon's culture, vision, and values.
A vision statement is a written declaration of what the company hopes to achieve in the future. It's often used to help employees see how they can contribute to the salon's success.
Why is a Salon Mission Statement Crucial for Your Business?
Keep the salon's strategy at the forefront of employees' minds.
The mission statement is what keeps your employees focused on what matters most. It helps them make good decisions about how to do things, and why to do them.
This creates a more cohesive environment where everyone has the same goal.
Attract more customers and investors to the salon
A strong mission statement helps new customers understand the benefits of using your salon services. This, in turn, helps you attract more potential clients.
Investors also find a clear vision compelling, so they're more likely to invest in your business if they can see how it aligns with their own personal goals and values.
Serve as an inspiration for your salon team
The way that your employees work, communicate, and interact with clients is shaped by the mission statement you create. It inspires them to work hard towards achieving your salon's goals and helps them stay on track and motivated.
5 Tips For Writing a Good Salon Mission Statement
1. Describe your salon's core values and goals
What do you want to achieve? What principles do you want to uphold? What do you stand for as a salon?
2. Outline the experiences your salon provides
This is where you can get creative and talk about the services and products you offer, as well as the way you offer them.
3. Write for your ideal client
Your clients are the ones who keep you in business and make your salon a success. So when writing your mission statement, start by asking yourself these questions:
Who is my ideal client? How can I help them? What do they want from me? How can I make their lives easier and better?
4. Communicate what makes your salon unique
Communicate what makes your salon different from all the others in town.
One thing to keep in mind when writing this section is that it doesn't need to be all about your product offerings – it can also be about how you treat customers.
5. Be specific and keep it short
The point of a salon mission statement is to be easily understood by anyone who reads it, whether they're a potential customer or an employee. So keep it short, sweet, and simple.
8 Inspiring Examples of Salon Mission Statements
1. Viselli
Salon
"At Viselli Salon, we pride ourselves on helping you find new ways to express yourself, be it through your hairstyle and color or through the products you use. This is all done in a contemporary yet cozy atmosphere unlike any other. Easy going yet luxurious, Viselli Salon is a true escape and the ultimate destination for great style."
2. SalonDJ Chicago
"SalonDJ guests can expect a highly personalized experience in a luxurious space – where they are heard, served and always leave feeling energized"
3. Facture Salon
"As an individualized group of diverse talent, we strive to maintain the MOST creative space to inspire each other and our clients. In a fun and stimulating environment, every aspect of the experience is better for everyone. Facture Salon is a hair heaven to be absorbed and shared!"
4. Ceron Hair Studio
"For over 10 years, our award-winning hair stylists and makeup artists have transformed their clientele with the utmost expertise and knowledge of the latest trends in the industry across Houston, and beyond."
5. Spoke & Weal
"Our mission is to build and maintain a culture that promotes wellness, strives for excellence, supports collaboration, and fosters creativity – We just happen to do hair."
6. Salon YOSHIKO
"We are rooted in the philosophy that beauty encompasses the mind, body, and spirit. We believe that beauty possesses a uniquely transformative power to enhance our lives and should be experienced and enjoyed throughout life's moments-both big and small. We know the power of community and the strength in our collective stories."
7. Signature Salon by Claude Baruk
"Baruk, who is world-renowned for his unique technique, upscale clientele and as "Celebrity Hairstylist of the Year" at the 2018 Hollywood Beauty Awards, will use his knowledge in the beauty and fashion industry to provide a personalized, one-of-a-kind experience that will be tailored for each of his guests."
8.
House of Lange Hair Design
"Our mission at House of Lange is to provide a harmonious culture combining the latest fashions, luxury, and environmental sustainability. We strive to provide a consistent and opulent experience, not just during the moments you step through our doors, but extended into your very lifestyle."
Final Thoughts
Salon mission statements are a powerful tool for any salon owner, but writing a good one can be a real challenge. You have to define what your salon is all about, communicate your brand's values to employees and clients, and provide a compass that guides you in making strategic decisions.
If you follow our expert advice and use the mission statements examples we've compiled as a jumping-off point for your own, you'll be well on your way to success.