For many salon and spa owners, the business aspect seems dull and creates more questions than answers. With countless tasks to juggle like employee scheduling, payroll, marketing, purchasing, and accounting (often all this in addition to handling a full appointment book), little time is left to statistically analyze the business and to strategically plan for growth.
As such, many salons and spas continue to operate the same way for years without realizing that some practices are actually hindering the business. So if you have only a few minutes every now and then, which reports should you be focusing on for the health and growth of your business?
Here are the 4 essential reports you should be looking at:
1. Business Summary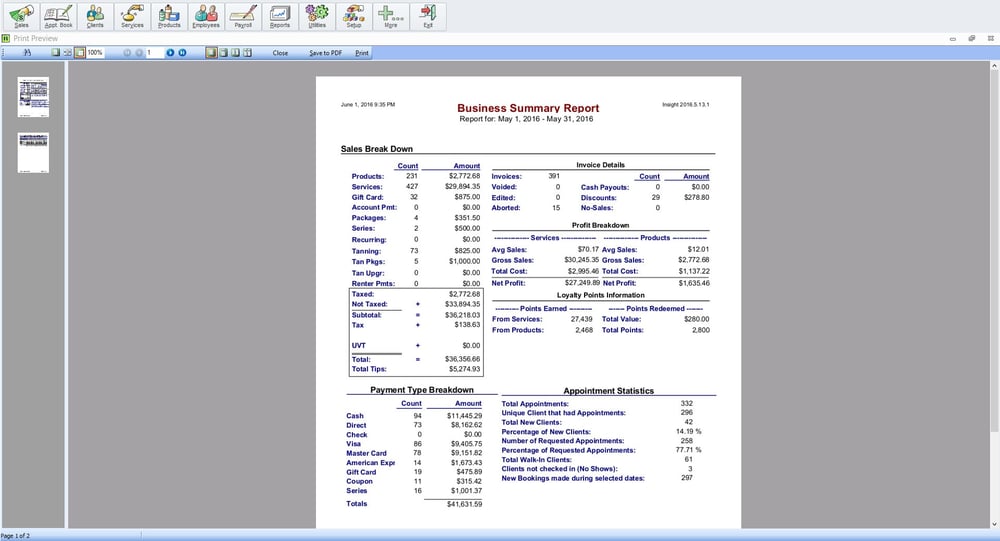 It comes as no surprise that the first report to look at is the business summary. Specifically, you should be comparing the numbers from month to month to identify trends and irregularities. You can then investigate further by running specific reports or by talking to your employees. Here are a few things to watch for.
Sales breakdown
If certain categories are not selling, find out why. Are employees not recommending them or are clients just not interested? For example if you sold only a few service packages, modify the bundle or price to tempt guests to purchase them. In addition, run a contest to motivate your team to sell packages as well.
Invoices
:
An unusually high number of edited and voided invoices or cash payouts should raise a red flag and be looked into further. While it may just be a team member requiring additional training, there have unfortunately been cases of employees taking advantage of the business. Insight Software allows you restrict these actions to certain employees and also records these activities for you to review later.
No shows
Over time, missed appointments lead to a large amount of lost revenue. While it may be unrealistic to completely eliminate no shows, you can minimize them by sending confirmations via text message or email.
2. Employee Utilization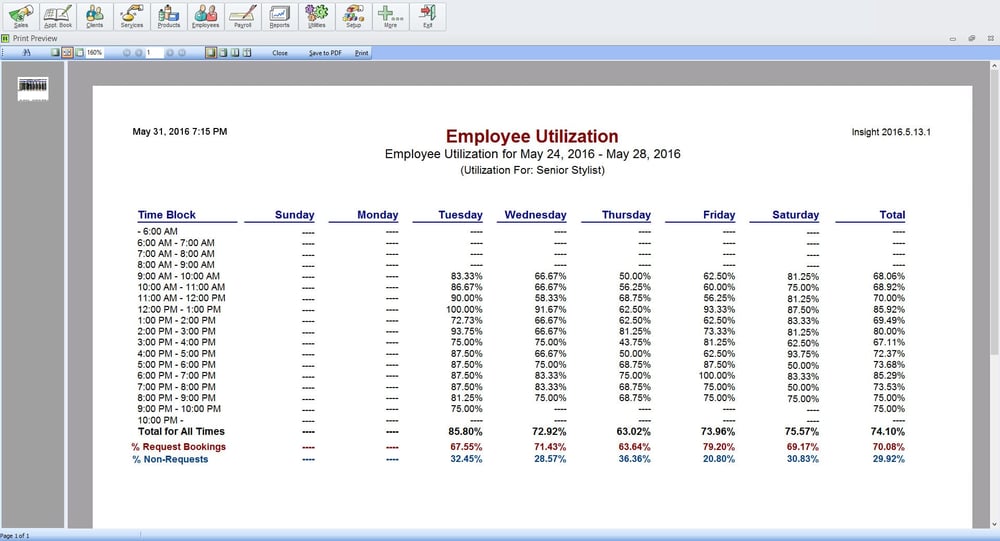 The primary resource that you are selling is time. In order to maximize revenue, you want employees to be providing services at all times. While it is unrealistic to expect a perfect 100% utilization, you should always be trying to get closer to it. A few ways to combat a low utilization rate are to minimize gaps in the appointment book, improve marketing efforts, and broaden your client base.
Is your salon busy during peak hours but quiet during the rest of the day? Encourage customers to book appointments during the quieter times in order to keep the calendar open for clients with a less flexible schedule. While consumers respond to financial incentives, it is not the only way. Mention that you can spend some extra time with clients when it's less busy or consider restricting the times when members can redeem their benefits.
If you are already near 100% utilization for the majority of the day, that's awesome! But that also means there may be an opportunity to grow your business. For example, is there space in your salon or spa to add an extra chair and to hire another employee? Or perhaps it's time to think about a second location!
3. Client Retention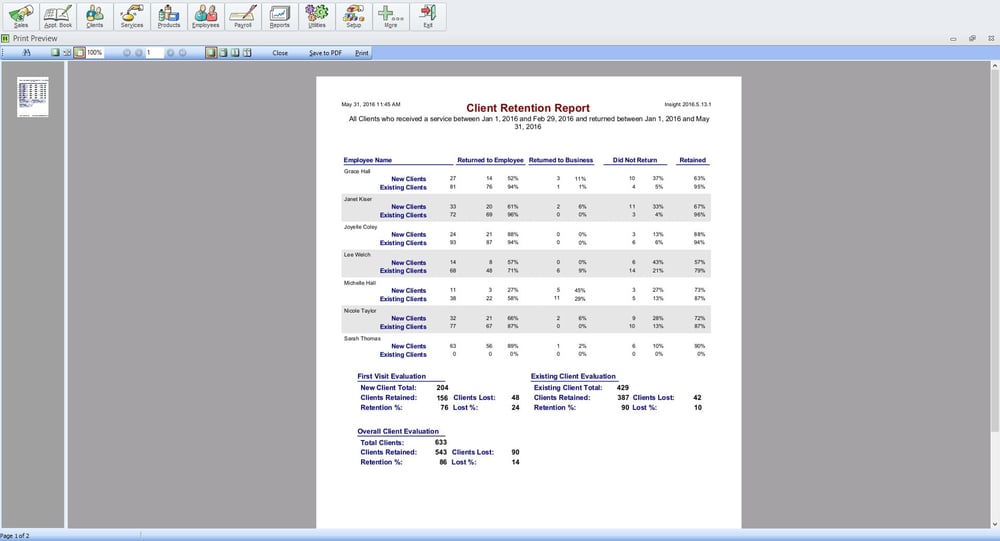 It is cheaper to retain clients than to acquire new ones. Plus, turning a first-time guest into a loyal and frequent customer will help increase your word-of-mouth referrals (and save you marketing dollars)! With the client retention report, you can determine which employees are retaining most of their clients and which are struggling in that regard. You can then investigate why clients are leaving and take corrective action.
If you notice many of your employees have a low retention rate, perhaps something else is amiss. As a salon, are you delivering on the promises you make (through your marketing channels, website, signage, etc.)? If you are unsure why clients are not returning, ask guests to complete a satisfaction survey.
While you're at it, find out which clients you haven't seen in a while. Sometimes all you need to do is send a personal email, text message, or handwritten note to invite them back into the salon.
4. Product Sales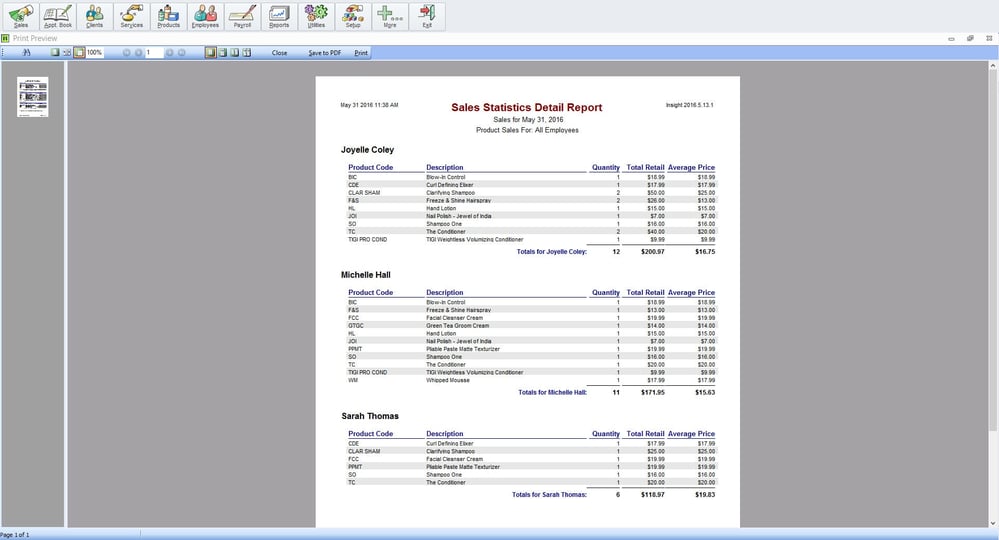 Retailing can be the most profitable part of running a salon or spa. With higher price markups and less limitations than services, retail products can add a tremendous amount of revenue to your salon. Similar to client retention, you should determine which team members are performing poorly in this aspect and coach them to improve.
It can be gentle reminders to help them build a habit of recommending products or a conversation to change their approach towards retailing. By focusing on a client's best interests, the sales aspect does not need to be aggressive or awkward. In fact, a proper consultation can actually improve client satisfaction, trust, and retention!
With the product sales report, you can also optimize inventory levels by determining which products are bestsellers and which items just collect dust. Given this information, you may decide to increase your order of top products and potentially get a volume discount. As well, ask your supplier if they will take back unsold products and replace it with another product line or brand. If the supplier will not take back items, you may alternatively choose to bundle some them with other products to clear out its inventory.
Conclusion
By analyzing reports, you have the ability to make informed decisions. From providing employees with additional training to making strategic changes, your business is on the path to success!
Insight Software offers over 80 distinct reports to give you a deeper look into your business's performance. In addition, Insight is integrated with QuickBooks to make your bookkeeping easier!