Selling and managing products is an afterthought for some salons and spas, however, it can sometimes be more profitable than the services. Simplify the retail process by using Insight Salon & Spa Software.
Product Information
Through Insight's Products module, easily manage any product information and even upload a picture of it. Edit prices and costs, as well as update stock or ordering information. Create special offers by setting start and end dates, along with the sale prices! To help you build trust with clients, usage or warning messages can be set to pop up when a client purchases the item.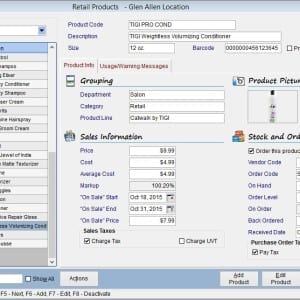 Inventory Management
Counting inventory can be a pain. From tracking products to ordering and receiving more inventory, Insight is your friend! The software keeps a count on how many items are in stock and how many have been ordered. Insight can even build a purchase order for you when you are running low on retail or professional supplies. After reviewing it, you can submit the purchase order right through Insight. When you receive the items, just let Insight know and the inventory counts will be automatically adjusted. It will even ask if you want to print barcodes or price labels for your new arrivals!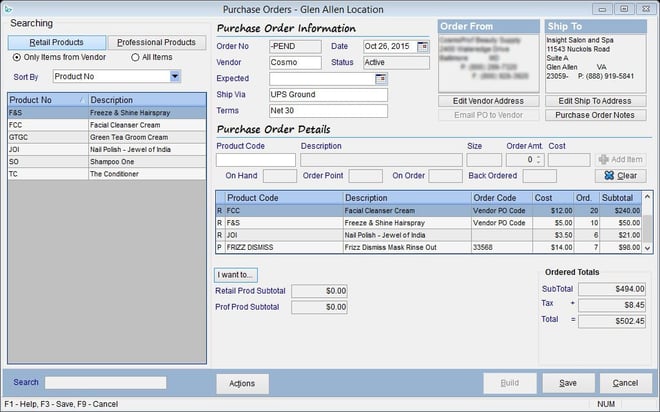 Point of Sale
Did your client get a new hairstyle and want to try and recreate it at home? Does the client usually buy a bottle of shampoo after their hair cut? There is a lot to remember when ringing up a sale, so Insight can remind you to offer clients some retail products. Inventory levels will also be updated automatically after products are sold!
Insight can also handle your payments efficiently. With the Sales module, simply select the product (the service can be automatically added from the appointment book) and accept the payment. Cash, check, debit and credit cards, gift cards, and coupons can all be accepted through Insight.