Grow your salon or spa business by building customer loyalty and increasing your client base.
Measure Client Satisfaction
Confirm that your current clients are delighted with your services, products, and prices. There is no point to draw in new customers if their needs won't be met. A disappointed customer may add revenue once, but a pleased customer will book another appointment and may refer friends to your business.
Develop a survey that they can quickly fill out after their appointment and provide them with an incentive to complete it. Or give them a follow-up call or email to ask about their experience and to offer them a time slot for an upcoming appointment. Show them that their feedback is appreciated and that it is utilized to improve the business.
Respond to Reviews
Protect and build your reputation by responding to reviews. Thank your clients who left positive reviews and let them know that you're eager to see them at their next appointment. Just as important, respond to those who wrote negative reviews. Value their feedback and ask for a second chance.
If they return and are pleased with the result, they may revise their review and you have regained a customer. Apart from the reviewers, other potential customers may peruse these reviews and will take note of your timely and professional responses when considering your business.
Promotions
To grow your business, special offers can bring in new customers or convince former customers to try you again. Offer deals for holidays like Mother's Day and Valentine's Day or for special events like Prom and Bridal Showers.
Offer a discount for last-minute bookings after someone cancels, or have special rates when a group comes together. Reach out to your social media networks and have them like and share the offer with their own connections.
Loyalty Programs
Give points for every visit or purchase, and allow them to redeem those points during a future transaction. Offer new members a welcome package with product samples, bonus points, and even a discount for their second appointment. Alternatively, you can reward frequent customers by offering a discount if they return within a specified time frame (e.g. one month) or by providing a free service/product after a number of visits (e.g. the 5th haircut is free).
Client Management
From the first time customers step in the door, remember their name and their preferred service and/or product. Record their contact information, track their service and purchase history, and make notes to remember birthdays or other tidbits that you can reference during their next appointment. Send them an email with a birthday deal or a text reminder to book their next appointment.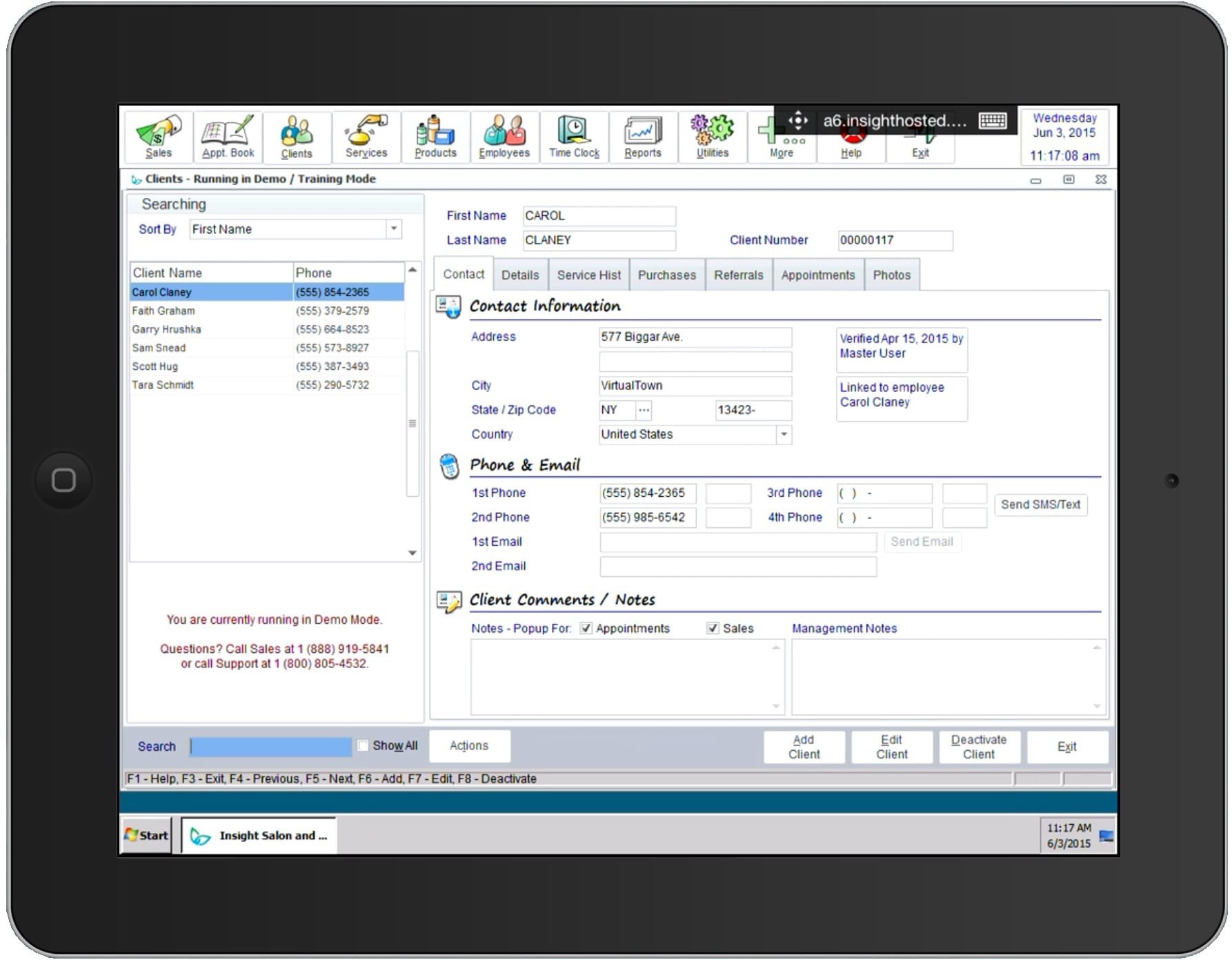 Among Insight Salon and Spa Software's numerous features is client management. You can safely and securely store customer data; manage and track loyalty points; and contact them directly, all from within the software.