Are you thinking of going out on your own to open a beauty salon? Chances are you've put some thought into the services you'll offer, your niche in the market, and your target audience. Hopefully you're also looking closely at the numbers. If you're reading this, it's a good sign you're asking the right questions.
So, what is a good salon profit margin? Well, "good" is relative, but we can give you an idea of what to expect. From there, the sky's the limit (just don't expect to reach the sky immediately).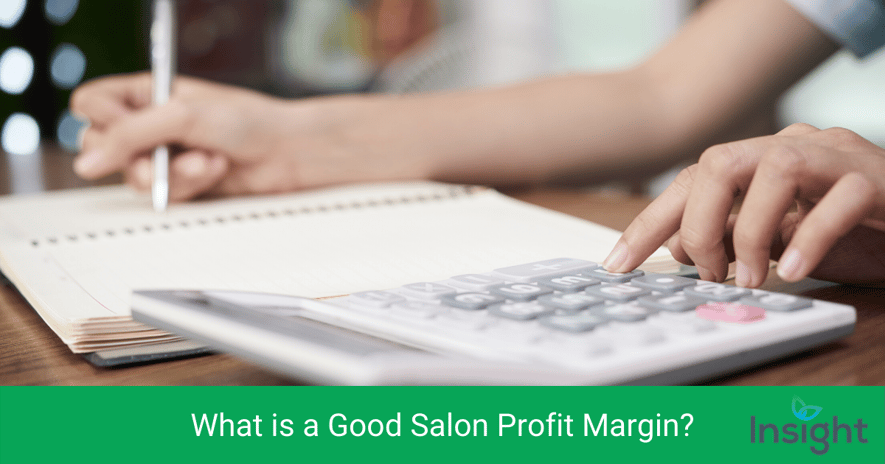 When looking at small owner-operator businesses in general, the average profit margin is about 8%. That number is slightly higher for salons and spas. You can expect your salon to make an average profit of around 9% to 10%. That is in contrast to other businesses like restaurants that maintain notoriously slim profit margins of only 2% to 5%.
That's good news but shouldn't make you overly confident. There are many variables at play when it comes to calculating profits.
Start-Up Costs
Most start-up businesses suffer in the early months due to underestimating the start-up costs. You're probably thinking of the costs associated with the equipment you'll need to outfit your salon. But it's important not to forget those invisible costs that are less tangible and therefore are sometimes out of sight and out of mind. Those costs include licensing, legal fees, taxes, and insurance.
When creating a projected budget don't forget that these fees will sneak up. Be sure to use calendar reminders for recurring expenses such as quarterly taxes. Nothing stings quite so much as the tax penalties you'll incur at the end of the year if you forget about those pesky taxes.
Whether you're seeking a small business loan or have a few investors in line, you'll want secure anywhere between $60,000 and $100,000 to get your salon off the ground.
---
---
Fixed Costs
One of the only things you'll be able to predict and control throughout your early start-up days is your fixed costs. Your fixed costs are the business expenses that will stay the same no matter whether your business traffic increases or hits a slump. Rent is the most common example of a fixed cost. Annual salon advertising contracts and other agreements frequently billed monthly are other examples of fixed costs.
Whatever your fixed costs may be, it is best to keep them as low as possible. Because you cannot predict how long it will take to build your business, keeping these costs low will help you weather the storm of a slow season or the early months when you're carving out your unique business proposition.
---
Services
In past blogs we've discussed the struggle to charge enough for salon services when you're just starting out. Realistically, we know you'll have to keep prices competitive for some basic services as a tactic for attracting new clients. But not every service you offer needs to maintain a shoestring profit margin. It is helpful to know how much of a profit you are making on specific services and know how many higher-end services you'll have to sell in order to boost your overall profit margin.
For example, you may only make a narrow profit on a basic haircut, but for a more involved service like full hair coloring you may be able to charge more with very little extra expense. Your profit margin will likely be better on a service like coloring. By understanding the profit margin of specific services, you can create goals that will help you reach the overall profit you'd like to reach.
---
Retail
An overlooked area of your business that may generate a surprising amount of income is retail. By carefully selecting and being sure to actively sell the retail products you carry on your shelves, you can improve your margins more than you might expect. Generally, there is a 50% margin on salon products. By remembering you're not just selling services but also products, you can diversify your revenue streams.
We recommend that you do a little homework when it comes to selecting your retail lines. Be sure you know the products your competitors are carrying and don't overlap. Also, don't get in a rut. Your clients will love being introduced to new products. Everyone loves to be the first to discover the latest craze. If you stay on top of trends in beauty care products, you can position yourself uniquely to your customer base. You'll enjoy that 50% profit margin especially when business is waning.
---
Hopefully these pointers give you a realistic idea of where your profits will be. But, speaking of fixed costs, marketing is one you don't want to forget about as you write your business plan. If you missed one of our previous blogs, Three Salon Marketing Strategies to Boost Your Business, you might want to check it out now to help you figure out how to create a marketing plan that won't kill your profit.
---
Having the right tools at your fingertips is the most important step in sticking to a marketing plan that will deliver results. Learn how Insight Salon & Spa software can save you time and streamline your marketing.