Recently, we shared some Facebook pointers to help you take your Facebook business page from run-of-the mill to customer mill. Hopefully, those recommendations helped you navigate some of the more challenging issues with the constantly evolving social media platform that is Facebook. If you missed it, click the link above to read it now.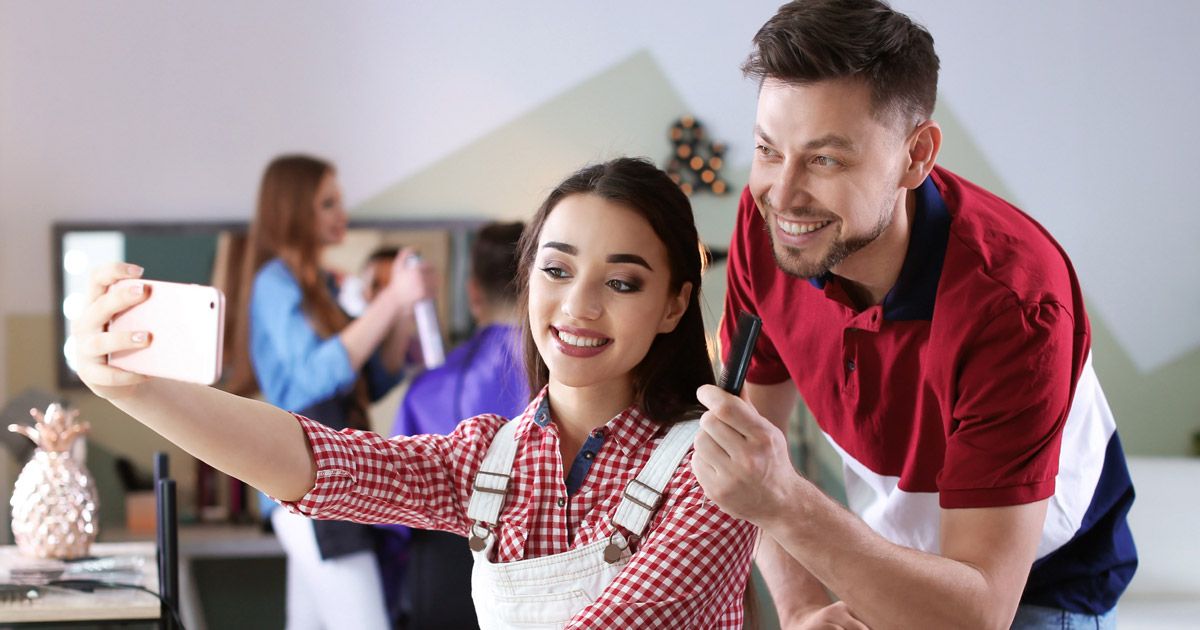 You may be wondering why we are sharing a second blog about social media essentials right on the heels of the first. The quick answer is not all social media platforms are created equal. For novices just beginning to explore the trove of free marketing opportunities available via the Internet, it's worth doing a little homework to determine the right platform to meet your salon's goals. Here we'll discuss some of the unique nuances of Instagram.
Instagram Essentials
Despite being owned by Facebook, Instagram offers a very different experience to its users and it appeals to a slightly younger demographic. If your salon is seeking new clients within the age range of 18 to about 30, Instagram is likely the platform you should choose. These social users are trending away from Facebook and prefer the minimalist, image-heavy content of Instagram.
Instagram is the perfect platform for a salon because everything you do is about creating beauty and improving image. That's Instagram's jam! Keep reading to learn a few things you need to know to get in the Insta game.
Hashtag 101
Twitter may have invented the hashtag, but that hasn't kept Instagram from capitalizing on this brilliant way of curating and finding the content unique to your interests. To make the best use of Instagram's ability to help you find new clients, you must understand the hashtag.
A hashtag is a word or phrase that begins with a hash or number symbol (#). There are no spaces between words when using a hashtag, and while capitalization helps a follower read the phrase it won't determine whether a follower of that hashtag sees it. You may want to use some generic hashtags that will have thousands of followers such as #salon and #beauty. But, you'll also want to create your own unique hashtag and ask your customers and fans to follow it and use it when they post their own post-salon photos.
If the name of your salon is common, you might consider adding your state abbreviation or city to the tag. For example, #AllAboutBeautyNC or #AllAboutBeautyCharlotteNC. Another effective tool is using a hashtag that identifies your location. By using a hashtag such as #CharlotteNC you will help yourself be found by followers who are interested in promoting business in a specific region or new residents trying to learn everything available in the town.
Tell Your Story
Posting photos and short videos to your Instagram feed or profile is an excellent way to build your brand and reach potential leads who are looking for the services you provide (another important reason to use hashtags!). But, posting client or salon photos to your page is not the only way to use the platform.
Instagram stories, accessed by clicking on the circular profile picture at the top of your Instagram page adds an element of up-to-the-moment energy to your brand. Unlike images posted to your feed, stories disappear after 24 hours. Using the story feature to share short videos or highlight timely sales keeps your most loyal followers engaged with your page. Stories are also a place to share more playful and causal content while reserving your feed for lasting content that more directly supports the mission and brand of your business.
Instagram vs. Facebook
We could dedicate an entire blog to the differences between Instagram and Facebook, but here we'll stick to two main differences that may help you decide whether Instagram is the right platform for your personality.
Mobile Only
Instagram is an app intended for use via your mobile phone. This adds to the in-the-moment flair of the content typically shared. If you prefer to manage social media from your desktop, you may find Instagram isn't the right fit for you. There are applications that have designed workarounds that allow you to engage with the app via computer. Just keep in mind you'll have another hurdle to navigate before getting started.
Sharing
Instagram also makes sharing others' content rather tricky. The platform values original content over virally-circulated content. As you may have noticed in your Facebook feed, a funny meme might be shared thousands upon thousands of times. This is similar to retweets on Twitter. Instagram differentiates itself by making sharing difficult. Yes, there are apps that allow you to copy another account's post and share it to your feed, but the process takes a few extra steps. If sharing others' content is the way you prefer to engage with your followers, Facebook may be the right platform for you.
Having said all of this, there's no reason you shouldn't manage both an Instagram and Facebook page. The two platforms make integration very easy allowing one post to be shared simultaneously across all of your social pages.
We hope this review of Instagram essentials has been helpful. For those of you who are attached to your mobile phone all day—yes, Instagram is the platform for you—don't forget Insight Salon & Spa Software is mobile too. Learn about our mobile app here.