Choosing the right hair salon name is a crucial step in the journey of your business. The name you pick plays a significant role in your branding and marketing. It's not just about finding a name that sounds good; it's about one that resonates with your target audience and reflects the unique services you offer. In this guide, we explore the importance of a good hair salon name and provide you with a collection of creative and unique hair salon names to inspire you.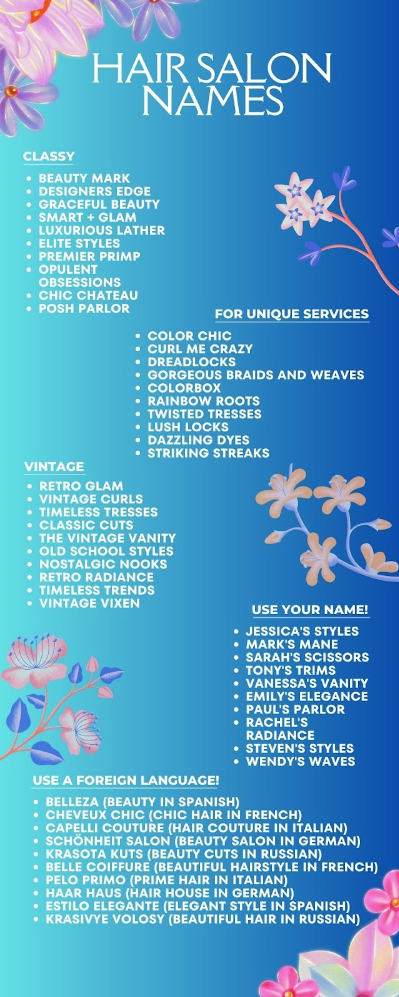 Importance of a Good Salon Name
Your hair salon's name is the first impression your business makes on potential clients. It's the cornerstone of your brand identity and influences how clients think about your salon. A well-chosen name conveys professionalism, creativity, and style, all of which are essential attributes in the beauty industry. According to Entrepreneur, a good business name is crucial for business success.
Your hair salon name plays a vital role in your marketing efforts. A memorable and catchy name helps your salon stand out in a crowded market, making it easier for clients to remember and recommend your services. It's a tool that, when used effectively, contributes to the success and growth of your salon.
Tips for Choosing a Salon Name
Choosing the perfect name for your salon requires careful thought and consideration. It's not a decision to rush; it's a process that requires time, research, and creativity. Here are some tips to guide you in this process:
Reflect Your Brand: Your salon name should reflect your brand's personality and the type of services you offer. It should resonate with your target audience and give them a clear idea of what they can expect from your salon.
Keep it Simple and Memorable: Simplicity is key when it comes to naming your salon. A simple name is easy to remember, easy to pronounce, and less likely to be misspelled. Avoid using complicated words or phrases that might confuse your clients. As Forbes suggests, keeping it simple and memorable is key to a good business name.
The Secret of Perfect Hair Salon Names
The secret to choosing the perfect hair salon name lies in understanding your target customer and what they value. Do you want to attract high-end clients who prefer top products and services and are willing to spend a bit extra? Or is your target audience younger, and want to look like their favorite influencers? Once you identify your target customer, start brainstorming names that will appeal to them.
A good hair salon name catches the attention of potential customers. In a competitive industry like hairdressing, your salon needs to stand out. Having a unique brand is important, but it shouldn't be difficult to guess what services you offer. A bit of humor also works wonders. A funny name makes your salon stand out and be remembered. People tend to remember what made them laugh, and they like to share it with their friends and family. Inc reports that a good business name should be attention-grabbing.
Hair Salon Names Collection
Now that we've covered the basics of choosing a salon name, let's explore some creative and unique hair salon names. These names are grouped into categories to help you find the perfect fit for your salon.
Classy Hair Salon Names
If your salon offers high-end services and caters to a sophisticated clientele, a classy name is a great choice. Check out these examples:
Beauty Mark
Designers Edge
Graceful Beauty
Smart + Glam
Luxurious Lather
Elite Styles
Premier Primp
Opulent Obsessions
Chic Chateau
Posh Parlor
Salon Names for Unique Services
If your salon offers unique services, like specialized coloring or unique hair treatments, consider a name that reflects these offerings. Here are some of our favorite:
Color Chic
Curl Me Crazy
Dreadlocks
Gorgeous Braids and Weaves
ColorBox
Rainbow Roots
Twisted Tresses
Lush Locks
Dazzling Dyes
Striking Streaks
Vintage Hair Salon Names
A vintage name gives your salon a classic and timeless feel. It also appeals to clients who appreciate a touch of nostalgia. Don't sleep on these name ideas:
Retro Glam
Vintage Curls
Timeless Tresses
Classic Cuts
The Vintage Vanity
Old School Styles
Nostalgic Nooks
Retro Radiance
Timeless Trends
Vintage Vixen
Create Unique Hair Salon Names by Just Using Your Own Name
Using your own name in your salon's name gives it a personal touch and makes it unique. It could look something like these:
Jessica's Styles
Mark's Mane
Sarah's Scissors
Tony's Trims
Vanessa's Vanity
Emily's Elegance
Paul's Parlor
Rachel's Radiance
Steven's Styles
Wendy's Waves
Use a Foreign Language for Your Hair Salon Name
Using a foreign language in your salon's name makes it sound exotic and sophisticated. Check these out for inspiration:
Belleza (Beauty in Spanish)
Cheveux Chic (Chic Hair in French)
Capelli Couture (Hair Couture in Italian)
Schönheit Salon (Beauty Salon in German)
Krasota Kuts (Beauty Cuts in Russian)
Belle Coiffure (Beautiful Hairstyle in French)
Pelo Primo (Prime Hair in Italian)
Haar Haus (Hair House in German)
Estilo Elegante (Elegant Style in Spanish)
Krasivye Volosy (Beautiful Hair in Russian)
FAQs about Hair Salon Names
How do I choose a unique hair salon name?
Choosing a unique hair salon name involves understanding your brand, your target audience, and the services you offer. It's about being creative and thinking outside the box. Consider using puns, alliteration, or rhymes to make your salon name memorable.
Can I change my hair salon name later?
Yes, you can change your hair salon name later. However, it's important to note that changing your salon name can have implications for your branding and marketing efforts. It's best to choose a name that you're happy with from the start.
Conclusion
Choosing the right hair salon name is a crucial step in establishing your brand and attracting the right clients. It's not just about finding a name that sounds good; it's about finding a name that resonates with your target audience and reflects the unique services you offer. We hope this guide provides you with some inspiration and practical tips for choosing the perfect hair salon name.
For more tips and advice on running a successful salon, check out our blog or explore our software solutions designed specifically for salons. Remember, the right name is just the beginning. The success of your salon depends on the quality of your services, your customer service, and your ability to adapt to the ever-changing trends in the beauty industry.