Are you looking for a salon management software but are not sure which one is the best for your business? While it can be tempting to begin the search by comparing prices, you should not eliminate any options before examining the full package. Just as you might not get more value when spending more, you also may not add any value to your business if you take the cheapest option. Follow the steps below to help you narrow down your options.
Functionality
Analyze Your Business's Current Situation
When researching software, you will want to ensure that it benefits, or at least maintains, your strong points and improves the areas where you may be struggling. Thus, the first step is to take a deeper look into your business and identify these strengths and weaknesses. Think about your internal processes such as appointment scheduling, payment processing, client follow up, inventory tracking, marketing, and performance reporting. Have you received multiple compliments or complaints in certain areas? Are there opportunities to improve efficiency?
For example when booking their next appointment, clients may request the same service provider as their last visit but can't remember the stylist's name. Depending on your current set up, you may not be able to easily determine this either. If this happens frequently, you may then want to get a software program that allows you to quickly retrieve a client's service history.
Features
Prior to looking at your various software options, try to prioritize potential features. Based on your business analysis, determine what functions are essential, would be nice to have, and is not necessary. Be specific when possible (e.g. must be able to set prices based on employee experience), but it is okay to be more broad if you are unsure about what exactly you need (e.g. need to manage inventory).
Next, research a few salon management software programs and compare them with your list. Does it have all of your essential features? Referring back to the business analysis, will the software improve your current process?
User Experience
Accessibility
With so many salon management software options available, you may be able to immediately narrow down your choices by determining whether you have a quick and reliable internet connection. If the answer is no, you will want to look at Installed software. This means that the software program and all your data is stored offline and run directly from your computer. You will not need to rely on your internet speeds or on any online servers.
If you can rely on your Internet access, then the choice is yours between Installed or Cloud software. Cloud programs store your data online which can be accessed by nearly any computer from anywhere with an internet connection.
Ease of Use
The next step is to test the user experience. Is the information neatly organized? Do the actions flow logically? Is it simple to use and learn? Although many software companies provide training sessions, you will want a program that is quick to learn especially if you have high employee turnover.
Support
With all technology, issues or questions may arise from time to time. But when this happens, will you be able to get timely assistance from the software developer? Will you be able to speak to a support representative over the phone, or are you limited to sending an email and hoping to get a quick response?
Reliability
With all cloud-based solutions, reliability is an important consideration. Servers can crash, internet connections can break, and service providers can be flooded with traffic to disrupt their services. Make sure you ask potential software vendors about their historical down times and what back up plans are in place to deal with unexpected outages. You don't want to be left stranded without access to any of your data for long periods of time.
Cost
Value and Price
By this stage, you will have already filtered out the software options that do not meet your needs and are now down to just a few options. Based on the software features, try to estimate the financial value you will receive from each software. Also, contact the potential software vendors to get a proper quote. With this information, you can now determine the true cost to you: the difference between what you pay (the price of the software) and the benefit you get in return.
For example, Software A's automated marketing feature may bring in one extra appointment per week. Over the course of a month, those 4 extra appointments could increase your revenue by $200. The price of Software A may be $100 per month but with the new appointments, you will actually gain an extra $100 per month ($1200 over a year). Meanwhile, Software B may be significantly cheaper at $50 per month but if it does not attract more clients or increase sales, you will end up losing $600 in a year. While Software B is cheaper, in this situation Software A would be a much better choice for your business.
Hardware and Compatibility
If you already have a computer and are not looking to replace it in the near future, you will need a program that can run on your existing computer. In order to save costs, you may also want to consider if your other hardware including barcode scanners, receipt printers, cash drawers, or payment terminals are also compatible with your salon software options.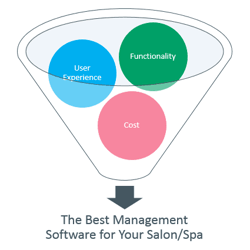 Next Steps
Choosing the best salon software can seem overwhelming, but it can be simplified if you take it step by step. Examine the features, consider the user experience, and compare the costs. Find the right balance between these three factors to select the best fit for your unique business.
Insight Salon & Spa Software will help you manage your appointment calendar, clients, employees, inventory, marketing, and more. Offering both Cloud and Installed versions, the Insight experience has been designed to make your life easier and to save you time.